Scroll down for more on these exhibits.


HENRICO CENTER FOR THE ARTS SENIOR SHOW Mary Scurlock guides her students through the many facets of art and the culmination of this work is the senior show at Art Works. The opening reception is May 27th from 7-10 p.m.. The exhibit will be in the Jane Sandelin Gallery through June 7, 2016.

ICONIC: 2016 Maggie L. Walker Governor's School Senior Art Exhibition - Jeff Hall provides the inspiration and guidance for the visual art students at Maggie L. Walker where he supports a broad range of experiences in both two and three dimensions and a wide variety of media. The students present their work at a reception on June 10th (6 pm – 9 pm). The show continues through June 19th. The exhibit will be in the Jane Sandelin Gallery.

The Artistic Conquests of Duane L. West - "In every piece of art I create, regardless of medium, I try to connect each piece with the historic and traditional values of the people, places, animals, or items I am painting, building, or sculpting. I try to match the piece to the emotions and memories of the consignee. And in doing all this, I am in hopes of taking on new challenges, opening the door further to Artistic Conquests!" This exhibit will be in the Skylight Gallery.


Quirks on Paper: How Life Influences Art by Glenda M. Creamer - Glenda Creamer paints abstract paintings, but also makes many drawings from life, whether at home or on an outing. She feels the practice of making these drawings helps to make her paintings stronger. This exhibit is in the Centre Gallery, East.



Don't Be Afraid It's Only Pixels by Waverly Clark Fitch- This exhibit will be in the Centre Gallery, West.

MAY 2016 ALL-MEDIA SHOW
Each month Art Works offers artists from all over to participate in a juried art show. Jeff Hall will jury the show. Submissions are accepted from any artist and any medium. Call for Entries is on May 20th and 21st, 2016 from 12pm - 6pm at Art Works. Artwork is on display through June 19th, 2016.
Click here to learn about entering your artwork.
Click here to view/print a PDF catalog

Honorable Mention All-Media Show: Crimson and Rustic by Marie E. Tripton, each 16x20 Acrylic, $250.


All images are the property of the artists and may not be duplicated without permission. Contact Art Works, Inc. 804 291.1400 in Richmond, Virginia U.S.A. for more information or if you wish to seek permission for use of images.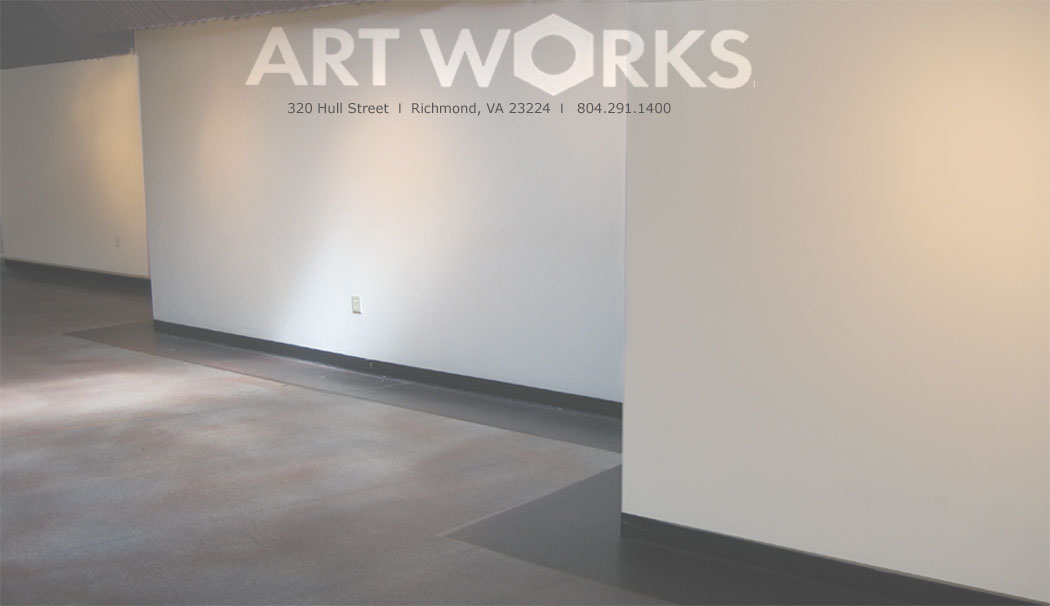 Duane L. West

Glenda M. Creamer

Waverly Clark Fitch

1st Place All-Media Show: Milk Duds by Jeanne Minnix 18x24 Mixed Media $400
1st Place All-Media Show: Mom's Lasagne by Jeanne Minnix 18x24 Mixed Media $400

2nd Place All-Media Show: Density by Sue Jachimec, 24x24 Oil and Cold Wax, $950

3rd Place All-Media Show: Light of the Digital Heart by Will Hicks, 16x20 Oil on Canvas, $800

Honorable Mention All-Media Show: Kaleidoscope by Binford Harrell 23x28, Oil on Corrugated Board Assemblage $950

Honorable Mention All-Media Show: Jacques by Mike Keeling, 28x44 Acrylic, $2,000