5 new exhibits are on display through May 22nd, 2016. Scroll down for details on the exhibits!


So the Story Goes by Jessica Sims
"So The Story Goes" is a collection of abstract paintings that are celebratory remembrances of my youth. The acrylic paintings on panel reference pallets from childhood memories and sentimentalized items of my youth, re-imagined with a new visual vocabulary. The works are poured, painted and glossed, creating encrusted, candied surfaces. This selection of works includes paintings that reference family anecdotes, favorite albums, wrestling, food items and toys from youth.
This exhibit will be in the All-Media Gallery.

Recent Works by John Dale Best
A collection of new works and digital creations by John will be on display this month. This Exhibit will be in the Centre Gallery East.

Floral Essence by Mark Best
Photography by Mark Best will be in the Centre Gallery, West.

Embracing the Dream by Curt and Debbie Palat
This exhibit will be in the Corner Gallery.

Places I've Been by Jill Ward
Jill Ward is an artist and teacher. She received her BFA from VCU and teaching certification from University of Richmond. This exhibit is a collection of work from the past two years. The main concept behind this series of work is the balancing act between what we think and what we say. Each piece speaks of a specific emotion or reaction to circumstance that we all feel, but may not share. It includes paintings, drawings and collage.
This exhibit will be in the Skylight Gallery.

April 2016 ALL-MEDIA SHOW
Each month Art Works offers artists from all over to participate in a juried art show. Frederick Chiriboga will jury the show. Submissions are accepted from any artist and any medium. Call for Entries is on April 15th and 16th, 2016 from 12pm - 6pm at Art Works. Artwork is on display through May 22nd, 2016.
Click here to learn about entering your artwork.
Click here to download / print a PDF catalog
All images are the property of the artists and may not be duplicated without permission. Contact Art Works, Inc. 804 291.1400 in Richmond, Virginia U.S.A. for more information or if you wish to seek permission for use of images.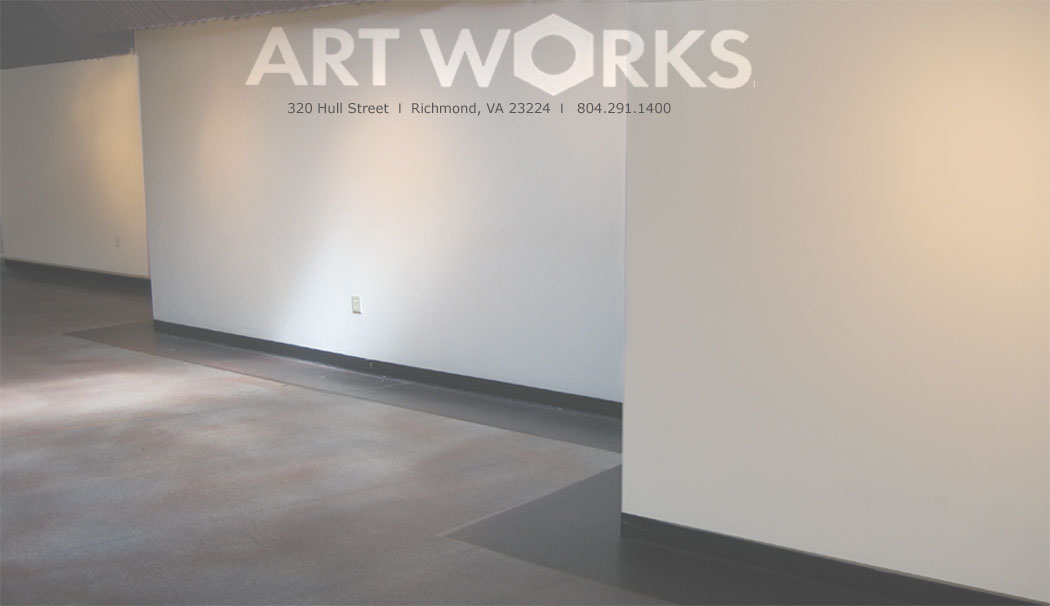 Some Kind of Spirograph by Jesisca Sims, Acrylic, 24x24, $175

\
John Dale Best

Mark Best

Fused Glass by Curt and Debbie Palat

Jill Ward

1st Place All-Media Show: She's the One by Linda Button, 30x24, Oil on Linen, $1,400

2nd Place All-Media Show: Aaaaaah by Chris Semtner, 8x8, Acrylic on Panel, $250

3rd Place All-Media Show: Untitled I by Audwin Porter, 37x49, Oil, $600

Honorable Mention All-Media Show: Rising from the Tangle by Jim Basl, 17x20, Archival Digital Print, $175

Honorable Mention All-Media Show: Listening to Traffic by Johanna Stoneking, 29x27, Photography, $300