SAVE A.R.T. in RVA
A.R.T is a program developed by Tim Lefens that provides the "tools and techniques that allow for un-compromised self-expression to severely challenged individuals. These individuals "have never walked, rarely if ever spoken, and have little or no practical use of their fingers". Under Tim's creative guidance the nonprofit organization based in Belle Meade, New Jersey has expanded to locations in Arizona, Florida, and New York and most recently at Art Works in Richmond, Virginia. Many of the paintings created during the last two years will be on display and for sale as a SILENT AUCTION in the Jane Sandelin Gallery.
Formerly funded by Easter Seals UCP, A.R.T. in RVA is seeking their own non-profit status and will be putting on a full-blown exhibition and fundraiser July 26th, at Art Works. This is an opportunity to meet some of the artists and donate toward keeping this program alive and flourishing in Richmond through their Silent Auction. The exhibit will be in the Jane Sandelin Gallery and will feature art made by the artists of A.R.T. in RVA.
DONATE NOW

FLORES DE FANTASMOS by Richard Becker From Long Island NY Richard has a BFA in printmaking and visual arts. After moving to Richmond, he starting working in digital imaging. He paints and works in screen-printing. This exhibit will be in the Centre Gallery, East.

ABSTRACTS BY WILLIAM PARRISH Skylight Gallery. Parrish brings us his textured abstract oil paintings.

GROUND METAL ART BY STEVEN LLOYD Lloyd is a prolific, award-winning metal artist exhibiting all around Virginia. His work consists on ground, burned, painted, and polished aluminum. His distinctive style has gained recognition in local businesses and galleries alike.

JULY ALL MEDIA SHOW Each month Art Works offers artists from all over to participate in a juried art show. Amie Oliver will jury the show. Submissions are accepted from any artist and any medium. Call for Entries is on July 19th and 20th. See our Call For Entries page to learn more.
About the Juror Amie Oliver:

"In my work I strive to create a quality of resonance and form that skirts with tradition and its illusion of permanence. Primary to this aesthetic is an experimentation with media and the power of symbols, objects and the vocabulary of human form. What interests me is the dialogue that results from using universal forms to make art that embraces conflict, revision, passion, reason, beauty and discovery.

As a hill walker and traveler, journals and agendas are also part of my creative process. Hence, my work catalogs the passing of time and experience, and possesses an inherent motion. I like to think of it as a mobile museum/library, which I could take on my bicycle, or float down a river if I wanted to - a message in - and sometimes without - a bottle." Amie Oliver's Website

Click here to view/print a PDF catalog

All images are the property of the artists and may not be duplicated without permission. Contact Art Works, Inc. 804 291.1400 in Richmond, Virginia U.S.A. for more information or if you wish to seek permission for use of images.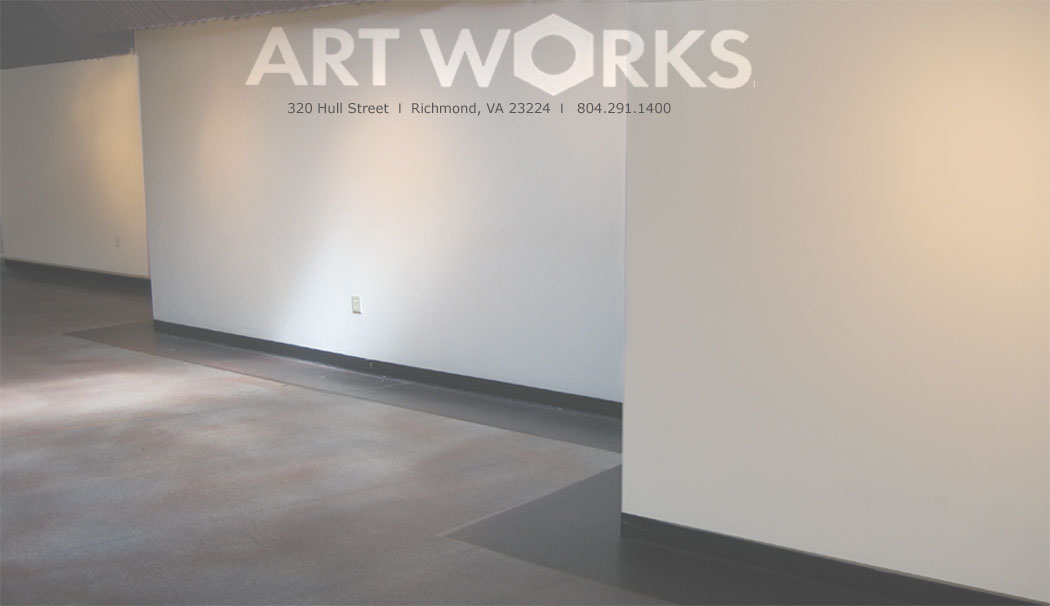 1st Place All-Media Show: Natural History by Chris Semtner 30x24 Acrylic, $1,400

1st Place: One and a Half Camel Crickets by Chris Semtner 8x10 Acrylic, $300

2nd Place: Jellyfish -o- War by Tadja Dragoo 52x60 Pencil on Paper $2,600

3rd Place: Manly Man and Lady Be Good by Jamie Phillips 16x19 Mixed Media, $150

Honorable Mention: Huguenot Bridge Series Under the Guard Rail by Bruce Yoder, Digital Photography, $175

Honorable Mention: You Are My Matchmaker by Anne Marie Counsell 26x38 Watercolor $320