LIFE SUSPENDED by Lindsay Freedman Lindsay Freedman brings us landscapes and still life paintings rich in tradition and beauty. The exhibit will be in the All-Media Gallery.
"This series is inspired by the still life painting, Quince, Cabbage, Melon and Cucumber (1602), by Juan Sanchez Cotan. In the painting, the quince and cabbage are suspended on strings, with the melon and cucumber located below them on a stone shelf. The suspended foods, set against a mysterious black background and surrounded by the austere geometry of the recessed shelf, are an especially striking motif. They invite meditation on their stillness and beautifully rendered forms.

I was interested in working with the image of a suspended object in a mysterious environment. In my first two paintings, Cabbage, Melon and Cabbage, Rose, I used the motif of a hanging cabbage against a dark background and added studio objects to the paintings. In the remaining paintings, I imagined different
environments for my hanging objects, using household items, studio tools, and my own landscape and figure paintings and studies.

In one of the last paintings in this series,, I envisioned modern opposites for important features of Cotan's still life. I substituted Doritos for Cotan's fruit and vegetables, and intense artificial color for his more subdued and natural color. I stepped up the movement in my painting to contrast with the stillness of his, and I chose a very small pepper to be the hanging object, thereby reducing its significance to a playful pendant in the overall composition."

FACES OF THE FOREST BY GORDON ROBERTSON Come see Robertson's rustic wood carvings made from whole tree logs depicting people and animals. His solo exhibit will be in the Skylight Gallery.

CREATION by Sarah Blankenship Centre Gallery. Blankenship is multi-talented: a jeweler, a painter and language teacher. Her exhibit will be in the Centre Gallery East.

RECENT WORK BY DAN PALESE Dan Palese is a Richmond native and graduate of JMU. He was an active member of the Shockoe Bottom Art Center and now has a studio in Carytown, Richmond. His murals are both in public and private locations. His exhibit will be in the Centre Gallery West..

POINT. SHOOT. SMILE. by Mickey Murphy Mickey Murphy has an artful eye for photography. His solo exhibit will be in the Corner Gallery.
"I love these 3 words. With my camera, I point towards a subject, shoot, and hopefully get a smile at the result. Weathered aged buildings, rustic barns and mills, rusted out old cars and trucks, they all have character and have a story to tell, which I hope to have captured through my photos. I am experimenting with modern, abstract images and more vibrant colors."

APRIL ALL MEDIA SHOW Each month Art Works offers artists from all over to participate in a juried art show. MARTIN MCFADDEN will jury the show. Submissions are accepted from any artist and any medium. Call for Entries is on April 20th and 21st. See our Call For Entries page to learn more.
About the Juror MARTIN MCFADDEN:

McFadden is the director of 1212 Gallery in Richmond, VA. He is also a photographer.
Click Here to download/Print a PDF catalog

All images are the property of the artists and may not be duplicated without permission. Contact Art Works, Inc. 804 291.1400 in Richmond, Virginia U.S.A. for more information or if you wish to seek permission for use of images.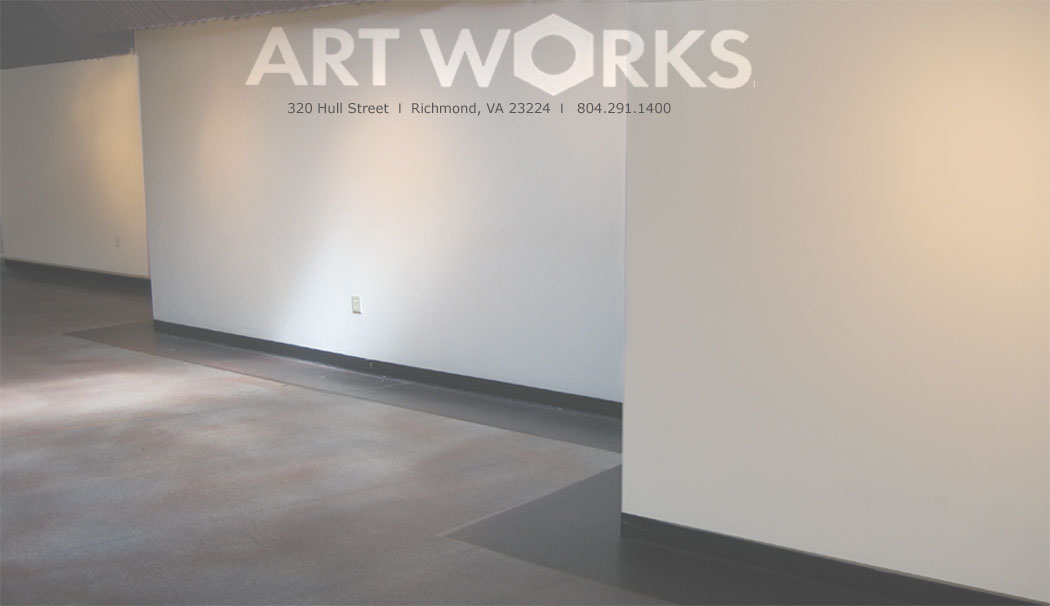 On Stage by Lindsay Freedman 30x30 Oil on Canvas $1600


March by Sarah Blankenship, 8x8 Pen and Prismacolor on Paper, $75

Monument and Boulevard by Dan Palese, 20x24 Oil on Canvas, $375

Rust Bucket Door Handle by Mickey Murphy, 8x10 Digital Photography $70

1st Place All-Media Show: Birds by Tim Harper, 23x11x17 Mixed Media - Recycled, $600

2nd Place: Friend in My Livingroom by Rafael Boone, 31x24 Oil on Canvas, $3,500

3rd Place: Rust with Handle by Danny Trent, 48x67 Acrylic, $900

Honorable Mention: Thursday by Jennifer Parker, 31x42 Oil, $2,200

Honorable Mention: Grasshopper Point by Dorothy Ellis 28x31 Monoprint, $350

Photography Award: Forgotten High-Tech by Bill Harrison 16x20 Photograph $150