RECENT WORK BY GREIG LEACH Jane Sandelin Gallery. Prolific Richmond artist Greig Leach's paintings explore still lifes, figures, gardens, commissioned work, food, the spiritual, and the 3-Dimensional realm. For his show this month at Art Works, Leach displays his vibrant figurative oil stick paintings.
"Greig Leach's work has been widely collected through the United States, including the Virginia Museum of Fine Arts, Ethyl Corporation, Phillip Morris, Chubb Insurance and the Progressive Companies. He just completed serving as a Visiting Artist to the American Academy in Rome, Italy and will shortly be an Artist-in-Residence to Columbus State University Corn Center for the Visual Arts. He has served as an Artist-in-Residence for the Virginia Museum of Fine Arts, the Virginia Commission for the Arts and the Webb School in Knoxville, TN and is a current artist on the Artist-in-Education roster for the Virginia Commission for the Arts. He is a past Fellow of the Virginia Museum of Fine Arts. His work graces many private homes, corporate offices and restaurants bringing joy, color and beauty to all who see his creations. Leach's art education has been continually developed in the studio with formal studies at the Corcoran Museum's School of Art in Washington, DC, Montgomery College in Rockville, MD and Virginia Commonwealth University in Richmond, VA, He and his wife, actor/writer Bridget Gethins share their turn of the century home in Richmond with two dogs and three cats, all mutts and all rescued from the streets. Their two sons, Austin and Kerrigan, have moved on, both living in New York City." - Leach's web site
RECENT WORK BY LESLIE CORBITT Centre Gallery West. This collection is a mixture of paintings representing only some of her many interests. From flora, fauna and waterscapes to more contemporary pieces. After many years in the floral, horticulture industry, Leslie Corbitt is rounding another curve in her life's road. Having only been painting for a brief time she has reached another stage with another outlet for her creativity.
NEW FACES OF THE FOREST by Gordon Robertson Centre Gallery East. Gordon Robertson's wooden log carved sculptures were recently featured in Richmond Times Dispatch. These unique portraits will be featured this month in the Centre Gallery. Info.
RECENT WORK BY JAMES FABRICATORE Skylight Gallery. James Fabricatore is a resident artist at Art Works. This is his first solo show at the Gallery.
ART AND IMAGES BY LINDA HOUGHTON Corner Gallery. What started as a hobby for Linda Houghton has turned into a business. Her photography i s featured in books, prints and even note cards. This is her first solo exhibit at Art Works.

SEPTEMBER ALL MEDIA SHOW Each month Art Works
About the Juror - Christaphora Robeers:

"I came to the United States as an immigrant from the Netherlands in 1956. I was ten years old and my art career was already four years old. Since art supplies were expensive and a car was a priority in America, I invented my own art materials. I used the pine needles that fell near the pond to do "earth drawings". I used old newspapers and pieces of charcoal from the wood-burning stove to do "charcoal drawings." There was never any question as to my dedication to becoming a painter. After all, I came from a country that is known as "the land of painters." My painting dialogue has always concentrated on color. Color is light and light represents and supports life. The subject matter in my paintings seems simple and humble at first glance. But are they really? They are a spiritual memory of the past and of the future. Once it was a great treasured gift to take a whole apple to school for my lunch. My mother had told me countless stories of how she ate tulip bulbs to keep her alive during the war. Pieces of glass and pottery appear in my paintings. It is an intense journey to encounter the simple and to make it complex. I explore what I see and experience within myself. I embrace the visual process and walk on the edge of a different reality with courage and conviction that I will return from my journey a richer human being and perhaps a painter with something to say. "
Click here for a PDF catalog to download/print
All images are the property of the artists and may not be duplicated without permission. Contact Art Works, Inc. 804 291.1400 in Richmond, Virginia U.S.A. for more information or if you wish to seek permission for use of images.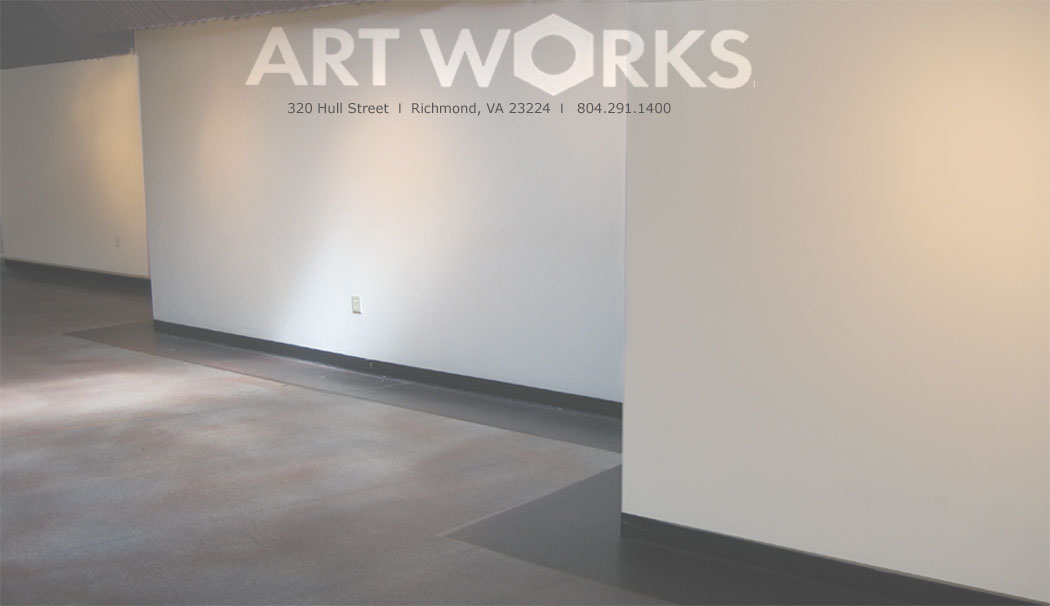 Fine Tuning by Greig Leach, Oil stick on paper

Town Bay by Leslie Corbitt 8x10 Oil on canvas

1st Place: The Junk Yard by Edward Whelan 24x28 Acrylic on Board, $400
1st Place: Self Portrait by Edward Whelan 14x18, Oil on Canvas, $950
1st Place: Memory of a Boy by Edward Whelan 30x6x6, Wax, $550

Detail of Memory of A Boy by Edward Whelan
2nd Place: Here by Chris Semtner, 4x6, Acrylic, $200
2nd Place: Somewhere Else by Chris Semtner, 8x8, Acrylic, $275
3rd Place: Portrait of Michelle by Rafiel Boone,36x48, Acrylic, $2500
Photography Award: Trapped by Johanna Stoneking, 20x16 Photography, $100
Photography Award: Freedom by Johanna Stoneking, 20x16 Photography, $100
Honorable Mention: New Kitchen by Linda Houghton, Photography, $100