METHOD by B. Mann Myers Jane Sandelin Gallery.
"In the world of a fine artist, Barbra Mann Myers has a defining quality to make an event memorable through her art. Mann Myers captures the occasion as it occurs from memory and photographic images, creating a lasting painting that is both real and imaginary. Barbra has been a fine artist for the past 30 years and resides in Richmond, VA."

2011 Eggstravaganza Egg Art Exhibit Richmond artists have been at work creating egg-art for the Easter Seals UCP Eggstravaganza. These eggs are an integral part of the annual fundraiser that benefits Camp Easter Seals UCP. On March 25th, the traveling eggs make their opening appearance at Art Works where awards will be presented for "Best Egg" and more. The eggs will be on display at Art Works for one week until they are travel to William Jeffrey Jewelers for a preview party and auction on March 31st. The eggs journey to their final destination on April 9th for auction at the Easter Seals UCP Eggstravaganza Gala at La Difference. This is the 7 th year that Art Works and Easters Seals UCP have partnered in support of Camp Easter Seals UCP. Corner Gallery.

OPTICAL ILLUSIONS by Bill Harrison. "This exhibit is a cross-section of work that illustrates different ways of looking at everyday objects and subjects. We look at the things around us, but we often don't really see them! I have found that everyday things all have interesting aspects about them . . . but, only if we take the time to look." Centre Gallery, West.

BLENDS: MOTHER-DAUGHTER EXPRESSIONS by Jacki and Jennifer Harris. A mother/daughter collaboration of distinctly different styles, blended together through color, texture and/or design using using acrylic paint, watercolor paint and charcoal pencil.

LANDSCAPE INCRIPTION AND WORKS BY KAY FRANZ Geraldine Kiefer's paintings and Kay Franz handbuilt pottery will be in the Skylight Gallery.

SWEET VIRGINIA BREEZE From the Chesapeake Bay to the Blue Ridge Mountains, this multi-media art show celebrates all there is to love about Virginia. The "Sweet Virginia Breeze" exhibit features local photography by Andrew Clarke and Tara Courtland and Virginia-inspired fine jewelry hand-forged by Linda Allard.

MARCH ALL MEDIA SHOW Each month Art Works offers artists from all over to participate in a juried art show. Matt Lively will jury the show. Submissions are accepted from any artist and any medium. Call for Entries is on March 18th and 19th. See our Call For Entries page to learn more.
About the Juror

"Matt Lively began his career as an artist at a young age when he believed that the life of an artist would afford him late, sleepy mornings. While sleeping until noon did not work out, he has enjoyed a successful career - guided by his suburban upbringing in Richmond, Virginia. Lively graduated from Virginia Commonwealth University with a degree in sculpture, and soon after moved to Atlanta and began creating his whimsical artwork. Lively's work in sculpture and in restoration have provided him with the tools and knowledge to create three-dimensional artwork. His paintings depict implied movement through subtle hints of things that have been displaced. The paintings playfully represent a less hectic time where the minutes go by so slowly that normally stagnant objects seem to be moving."
Click here for a downloadable PDF Catalog
All images are the property of the artists and may not be duplicated without permission. Contact Art Works, Inc. 804 291.1400 in Richmond, Virginia U.S.A. for more information or if you wish to seek permission for use of images.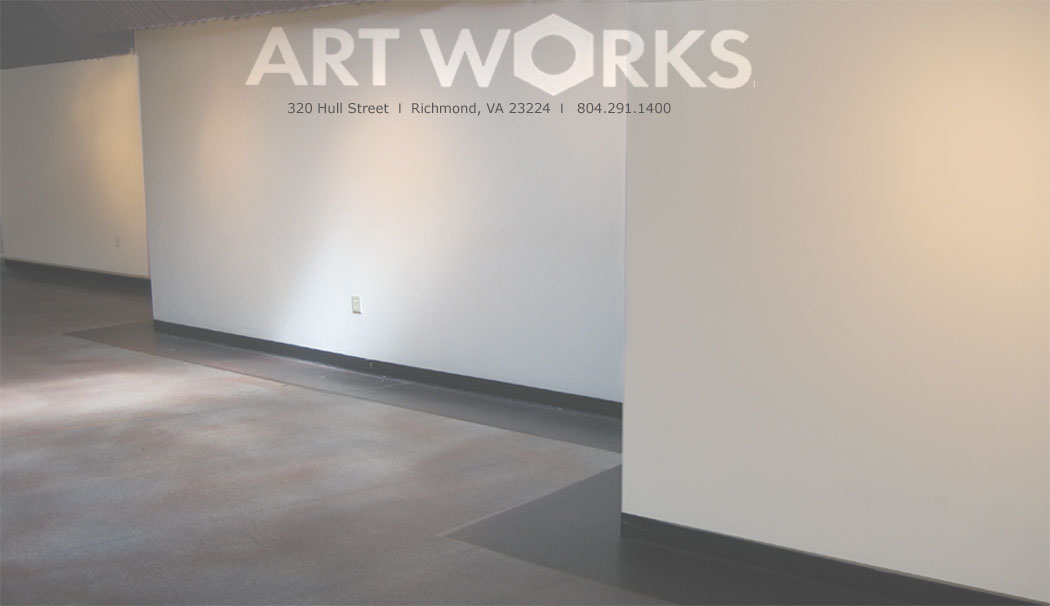 Open Waters by B. Mann Myers 23x28 Mixed Media on Burlap, $1300


Manual Delete by Bill Harrison, Photography

S

Uncharted Shores I by Geraldine Keifer

Monument Aveune by Tara Courtland, photography.

1st Place: Blister by Meredith Lyttle, Mixed Media, $295
2nd Place: Salix alba by Heather Beardsly Graphite on Paper $200
3rd Place: Laugh Then Speak by William B. Kirk. Oil, Acrylic, $600
Honorable Mention:Ticket Booth by Robert Pfeifer, Photograph $60
Honorable Mention: Star Spiral by Dana Frostick, Acrylic on Canvas $950