CHRISTIANE MIDDENDORF GALERIEN Joining us from Germany, Middendorf paints with expressionistic brushwork and each painting has a life of its own based on a personal experience of the artist. Yet the form and colors speak to each viewer and their personal experiences making Middendorf's work extremely powerful. Jane Sandelin Gallery

WATERCOLOR SPLASH by Laura Smith "I am a born and bred Richmonder, a tennis playing mom, and former founder and editor of a fanzine called the Unbroken Chain. I have enjoyed art my entire life and am currently studying under Ann Chaddock. My works are mostly watercolor landscapes and include sights and scenes around Virginia and some points beyond."

A LITTLE BIT OF EVERYTHING by Beth Nixon Nixon brings us photographs, pen and ink drawings and paintings showing a range of artistic expression and ability. Centre Gallery.

ELDERS: THE CREATIVE SPIRIT Audrey Skeen, a potter and member of Art Works Gallery, came up with the idea for this exhibit. As a volunteer to several senior facilities, Audrey provides not only her time but also her skills as a ceramic artist by facilitating art classes. She observes that art can come to the individual at anytime in life: childhood, adolescence, adults and in senior years. Whatever time we take up art, it continues to support and sustain us as we change and age. With this in mind she asked the elders from four senior organizations in Richmond (Senior Connections, Circle Center, PACE and ElderFriends) to provide artwork for this exhibit. The artwork could be created during group activities at the centers or created individually. Seniors from PACE were provided an opportunity to visit Art Works for tours and to work on a ceramic tile project with Audrey Skeen. Some of this work will be on exhibit at the show. Additionally many Richmond professional senior-artists have been invited to participate in the show. On opening night the facilities will be able to provide information about their organizations, which range from support groups to adult day facilities.

OBSERVATIONS 2010 by Bill Harrison "Harrison is a commercial/industrial photographer and graphic artist with over 40 years experience. He is a Richmond resident and native, spending time sailing the Chesapeake Bay and photographing its variety of moods. His fine art work concentrates on details and textures that contribute to the bay's unique look. His expertise also includes images for advertising, commercial and editorial markets, specializing in location, close-up, and illustrative subjects for trade magazines. Bill received his degree in Visual Arts from Virginia Commonwealth University in 1969. Experience in public TV, military service, state governement and rivate industry over the past 40 years have provided ... influences for his work." -from Harrison's website.

MARCH ALL MEDIA SHOW Juried by Chuck Scalin and Mim Golub. Call for entries is Jan 15th and 16th at Art Works for this Juried show. See our Call For Entries page to learn more. The jurors will give a talk on opening night March 26th at 7:30pm.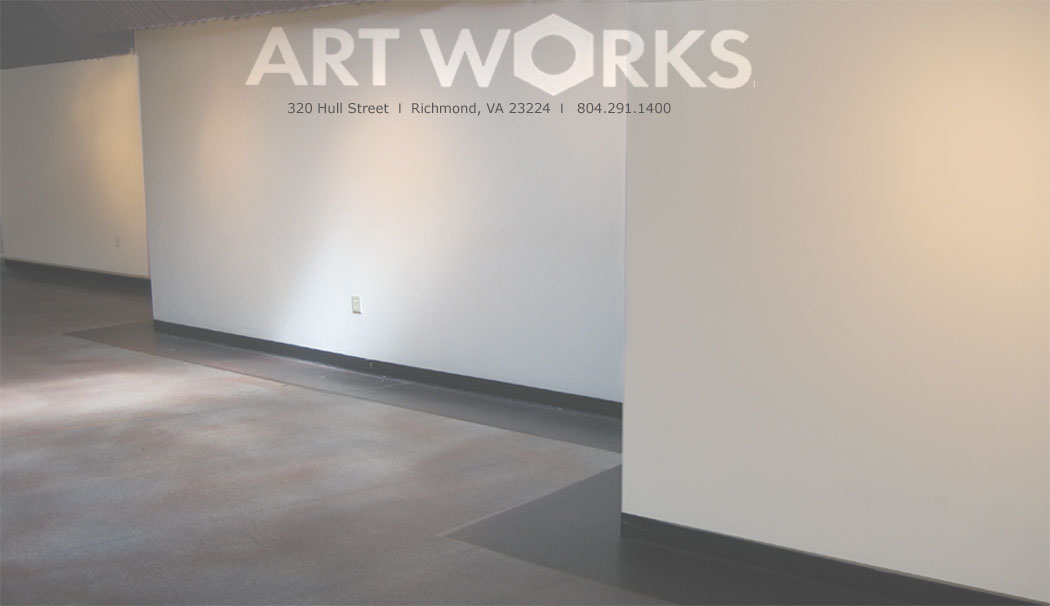 The Own Way II by Christiane Middendorf 39x39, Acrylic

Train Bridge at Twilight by Laura Smith 9x22 Watercolor $550

Patience (detail) by Beth Nixon 11x14 Pen and Ink

Reedville by Bill Harrison, Black & White Photography
1st Place: James River Park by Charles Arnold, 40x51, Oil $750
Second Place: Orion Nebula and Swan Nebula by Ruth Wunsh, each 16x26, Gold and Semi-Precious Gems, $2,000/ea
3rd Place: Halcyon Youth by Justin Sheets, 18x22 Photograph, $260
Honorable Mention: Time Out by David Parrish, 14x20 Photo on Canvas, $150
Honorable Mention: Rocking Horse by Morty Lancaster, 5x8x11, Cherry Wood, $8,000