A STARTING POINT by Fiber Transformed including artists: Jill Jensen, Judy Loope, Peggy Prinze, Mary Beth Bellah, Cynthia Harrison, Lotta Hellaberg, Susan Skalak. From Charlottesville, VA the Fiber Transformed group brings textile art in 2 and 3 dimensions to Richmond. Jane Sandelin Gallery.

PRAYER RUGS AND SADDLEBAGS by Michael C. Simon Simon brings us his collection of tribal weavings and rugs of the Turkmen and Balouch. Each piece has a story as to its creation and use.
"Possibly stemming from the year I lived in Afghanistan, over the years I've developed a deep love for the tribal weavings of that country. Especially the rugs and trappings of the Turkmen and the Balouch. If you've seen my articles in Art of Angling Journal (such as "Wm Harms - Custom Rod and Gun") you may notice that I never miss an opportunity to pose a beautiful cane rod, or classic reel against a background of a fine Turkmen rug or Balouchi saddlebag." -excerpt from Simon's Website

CORRESPONDING IN CLOTH by Jean Gonzalez Jean makes beaded wall hangings with themes and messages. SUNDAY JANUARY 24th - FAMILY QUILT SHOW AND TELL WORKSHOP- On the Sunday following the show Gonzalez will conduct a workshop for the public inviting people to bring their family quilts for sharing, advice and story telling. Jean Gonzalez will conduct a workshop allowing the public to bring their family quilts for sharing and story telling. The workshop starts at 1 p.m. and is free and open to the public. Contact Art Works (804 291.1400) to sign up for this event
Jean Gonzalez is an independent designer in Richmond, VA who makes beaded wall hangings with messages. She is a native New Yorker who has been sewing by hand with thread and needle for forty years. She does not use a machine, pattern or tape measure. Her wall hangings range from abstract patterns with colored glass beads and yarn to simple designs like a number or peace sign and can incorporate the uniqueness and complexity of any individual, group or theme.

Gonzales started out making caftans, dresses, repairing and mending clothes and later repairing family quilts. This led her to making custom quilts for people from their loved ones' old clothing. Jean finds this work particularily fulfulling and rewarding. She also makes Minister's Stoles which can be personalized for her customers. Next, she would like to start a line of Fantasy/Superhero accessories to help everyone to see their inner hero.

THINGS I DO NOT KNOW by George Hughes Hughes is a graduate of VCU School of Art. Growing up in the majestic Blue Ridge Mountains and living in the heart of the Fan while going to school created certain man vs. nature conflicts that produced a love for the landscape. The instantaneous expression capable with music was a great influence for the impressionistic style that was developed to enhance the creative flow of the mark and intensity of color that can only be accessed with the natural ree flow of landscape painting.

RECENT WORKS by Terry Lynn Smith Smith is an award winning painter and will show her new fantasy figure paintings this month in the centre gallery.

JANUARY ALL MEDIA SHOW Juried by Sally Bowring. Call for entries is Jan 15th and 16th at Art Works for this Juried show. See our Call For Entries page to learn more.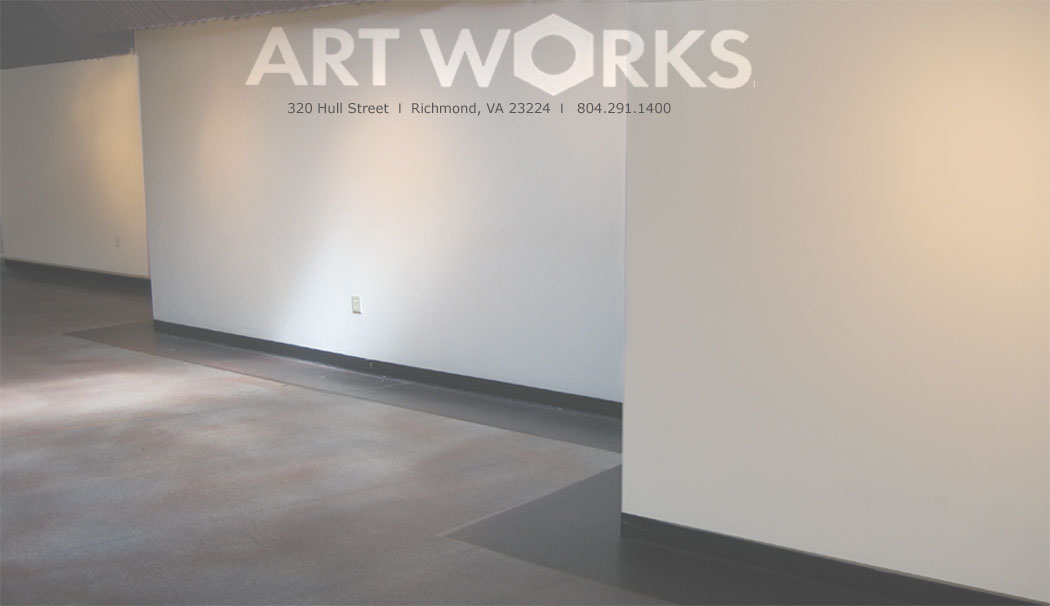 Things I Do Not Know by George Hughes

Sylvan Fantasy by Terry Lynn Smith

S
First Place Mary and Jesus by Kay Vass Darling 9x12, Oil, $189
Second Place: Reflections by Kathleen Hall 11x14, Oil $150
Third Place: My Red Horse by Pamela Smith Bickford 16x20, Oil, $750
Honorable Mention: Red Fusion by Steven Lloyd 24x48, Ground Metal Art $580
Photography Award: Soft Shoe Dancing by Richard Buhrman, 16x20 Digital Art, $300
Honorable Mention: Photography by Bill Harrison 16x20 $150/ea.